| | |
| --- | --- |
| Also known as: | Castle Combe Aerodrome / Castle Combe Circuit / RAF Castle Combe |
| County: | Wiltshire |
| Current Status: | Farmland / Leisure activity (main position) |
| Date: | 1940 - 18 October 1948 |
| Current Use: | Disused |
| Used By: | RAF |
| Landing Surface Types: | Unpaved, later metal |
| Aircraft Roles: | Trainer |
Now a famous motor racing circuit, flying began at Castle Combe in 1940. The site was used as a satellite for No 9 Service Flying Training School (later No 9 (Pilots) Advanced Flying Unit from February 1942) at nearby Hullavington using Hawker Harts. With facilities being improved during the winter of 1940/1941 the airfield was officially repurposed as a Relief Landing Ground in May 1941 and the school, now flying Miles Masters and Hawker Hurricanes operated throughout the summer.
Problems with waterlogging over the following winter especially meant that further improvements, such as the addition of Sommerfeld Track, were made in 1942. Fleet Air Arm pilots were also being trained by the school from around this time, meaning that Castle Combe saw use from Navy types such as Fairey Albacores and Swordfish. After this unit moved to Errol in the summer of 1942, No 3 Flying Instructors School (FIS) quickly transferred from Hullavington to be based at Castle Combe. Operating Airspeed Oxfords and Masters, the FIS continued to use the airfield until the autumn of 1943 when it left for Lulsgate Bottom due to the landing area at its former home still suffering from waterlogging.
No 15 (Pilots) Advanced Flying Unit from Babdown Farm used Castle Combe as their main Relief Landing Ground from November 1943 until the airfield was reduced to Care and Maintenance in June 1945. There was however one last bit of activity when the airfield was taken over by No 2 (Polish) Resettlement Unit in July 1946. The Poles occupied buildings at the site until Castle Combe closed on 18 October 1948.
Castle Combe Circuit opened soon after, with the first race taking place in 1950. The track, primarily the original perimeter track, is still active to this day and has seen famous names such as Nigel Mansell, Stirling Moss, Ayrton Senna and John Surtees race there. Among other survivors is the control tower that continues to be used for motor sports activities.
The following organisations are either based at, use and/or have at least potentially significant connections with the airfield (as at 01/07/2013):
Bristol Motor Club
Bristol Pegasus Motor Club
Castle Combe Parish Council
Drive-Tech Ltd
Merlin Motorsport
The Tavern
Torbay Motor Club
Wiltshire College - first British motorsport engineering centre based at a motor racing circuit
Yatton Keynell Parish Council
Notable Past Associated Organisations:
Bristol Aeroplane Company Motor Club
Bristol Motor Cycle and Light Car Club
The following alternative information/mass media sources have at least potentially significant connections with the airfield (as at 30/11/2018):
Castle Combe Village Website
Welcome to Yatton Keynell - contains history of airfield
Main unit(s) present:
No 3 FIS

No 9 (P) AFU

No 9 SFTS

No 15 (P) AFU
Photographs and video from the memorial unveiling at Castle Combe on 6th October 2018: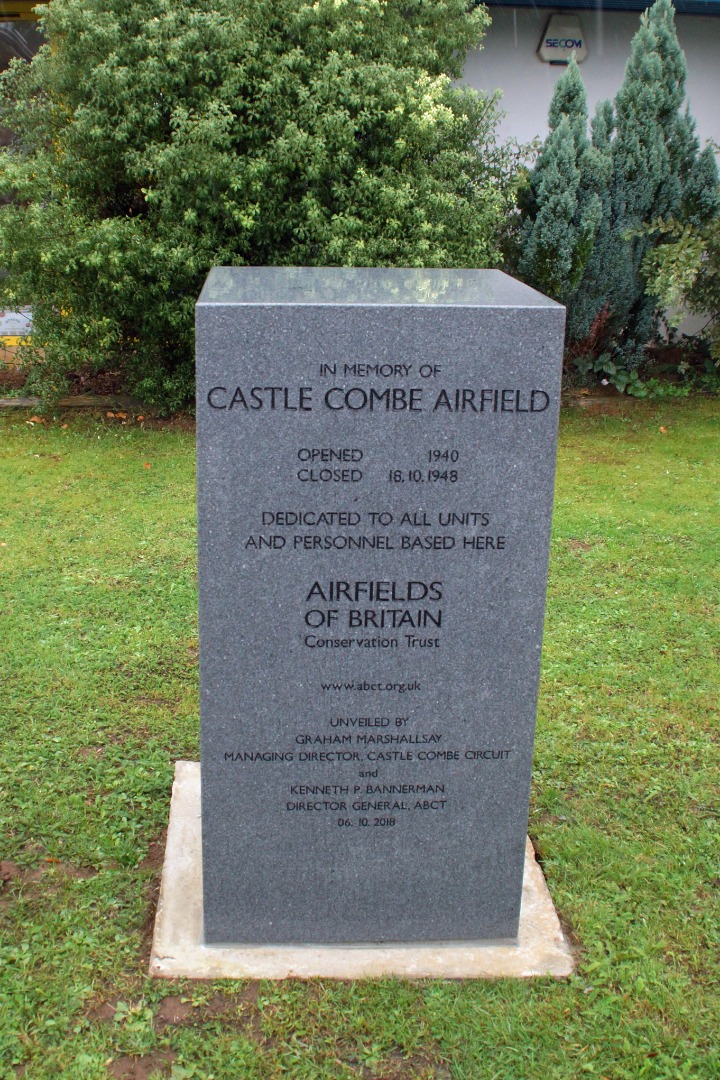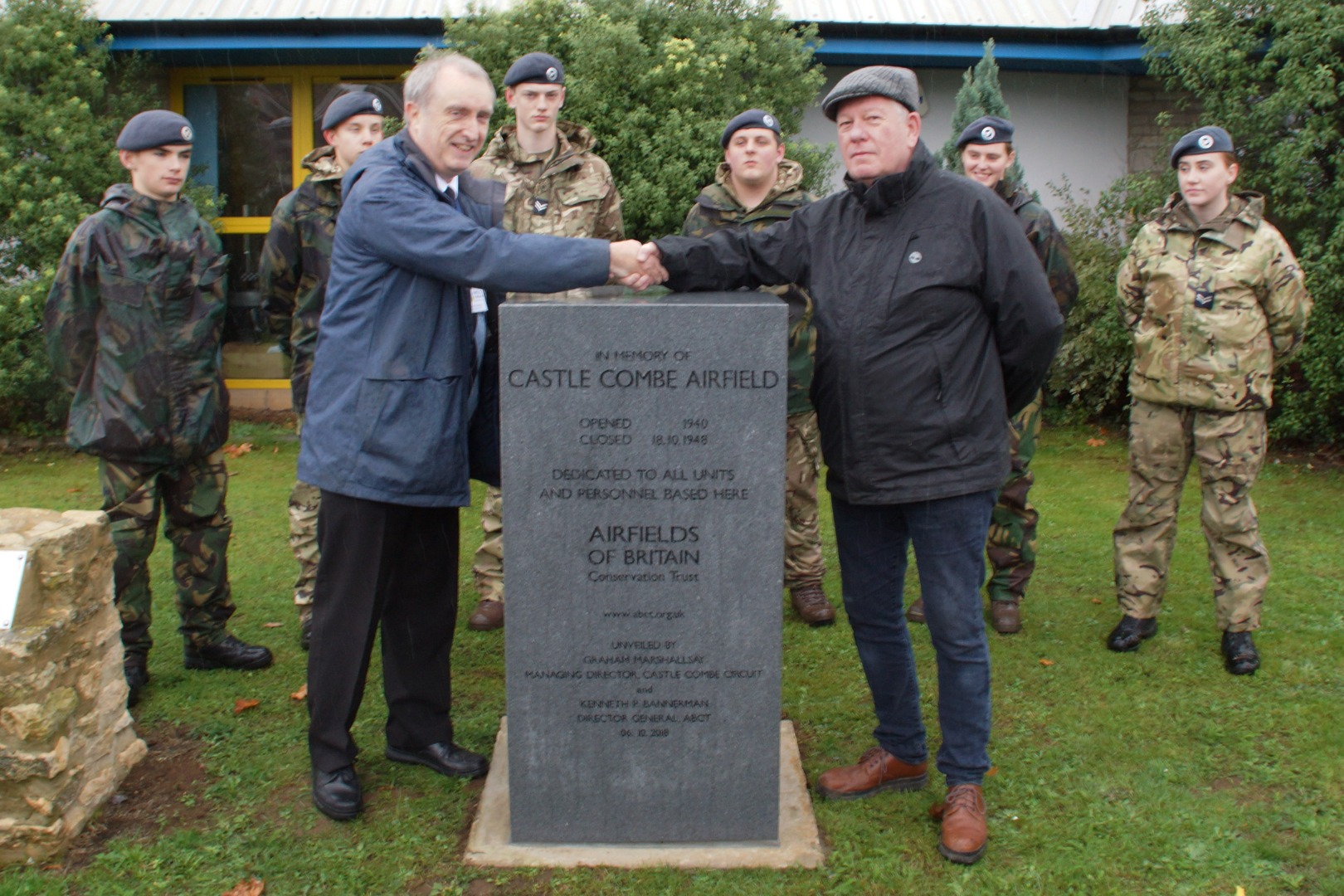 Touring car racing at Castle Combe with the control tower in the background, 1962. Courtesy of TOPCAMERAMAN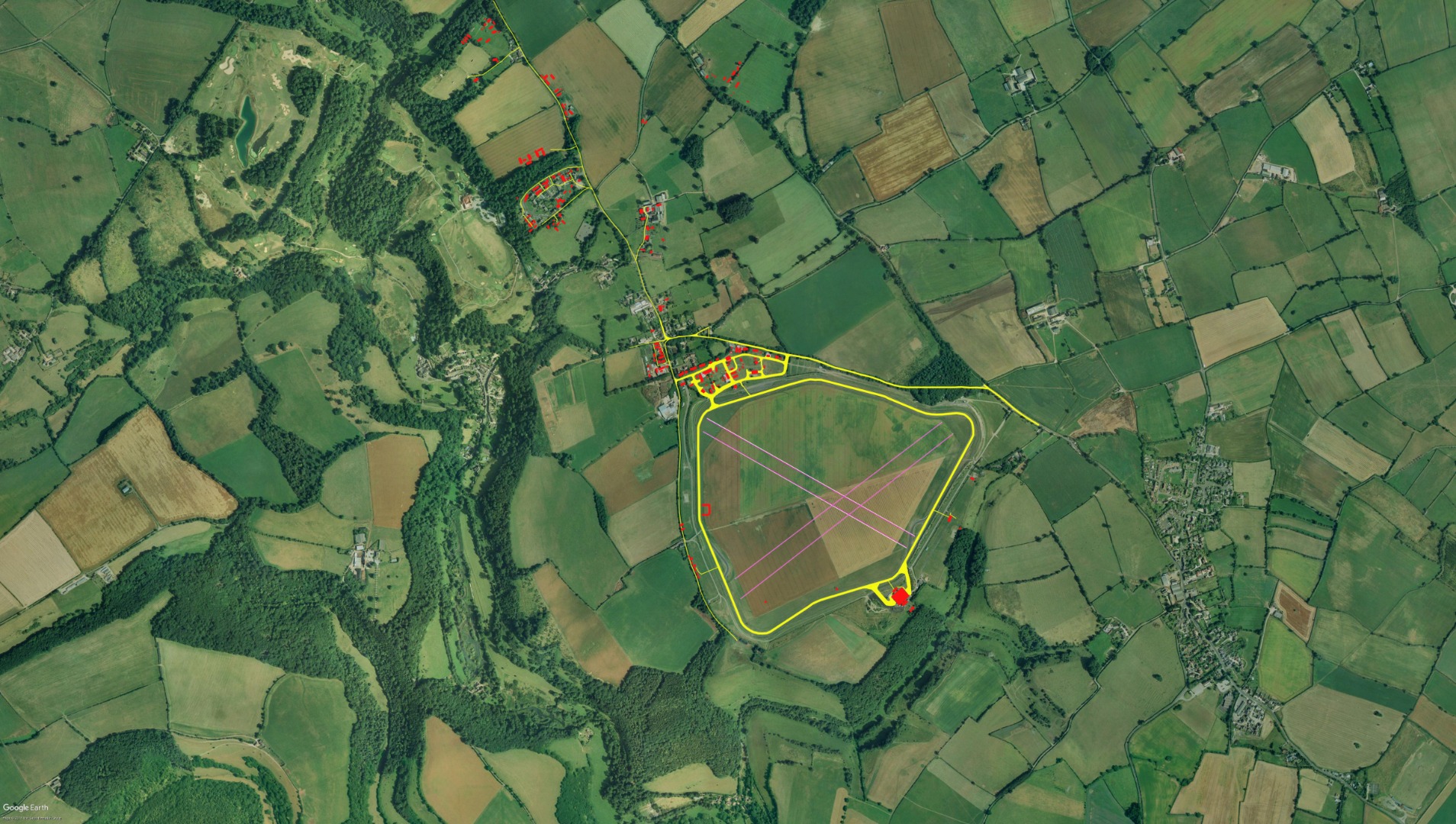 Plan of Castle Combe. Courtesy of Ed Andrews
| | |
| --- | --- |
| Parent(s)/HQ Airfield(s): | |