| | |
| --- | --- |
| Also known as: | Bath / Charmey Down (misspelling) / Charmy / Charmy Down Aerodrome / Charmydown (misspelling) / RAF Charmy Down / USAAF Station 487 |
| County: | Bath and North East Somerset |
| Current Status: | Aviation / Farmland (main position) / Leisure activity |
| Date: | November 1940 - 22 October 1946; subsequent minor use |
| Current Use: | Disused |
| Used By: | RAF (main user) / Civil (minor use) / RAAF / RCAF / USAAF |
| Landing Surface Types: | Paved |
| Aircraft Roles: | Anti-aircraft co-operation / Bomber / Fighter (main role) / General aviation (minor use) / Reconnaissance / Trainer |
The history of Charmy Down to the north of Bath can be notably divided into two parts, during and after fighter units used the airfield. Closely connected with Colerne for a good deal of its life, this satellite was much needed once it opened in November 1940 to provide vital fighter defence for Bristol and the surrounding area. Colerne initially had good reason to rely upon Charmy Down too in earlier days as the parent airfield still needed much construction work to be completed, while Charmy Down more immediately offered night flying facilities. This explained why a detachment of Hawker Hurricanes belonging to No 87 Squadron quickly moved in on opening, followed by the whole unit in December 1940. Eventually the squadron moved back to Colerne during August 1941 but returned for another stay between January and November 1942.
Other fighter elements to appear at Charmy Down in the first half of World War Two included both Westland Whirlwind squadrons, with No 137 the second and last to form on 20 September 1941. No 417 Squadron also formed here that year on 27 November but did not stay long afterwards either. Turbinlite airborne searchlight night fighter squadron No 533 similarly arose in September 1942 but disbanded with all other units of this type during January 1943.
The gradual move away from purely fighter use began a month later as the Fighter Leaders School transferred to Charmy Down. This important Spitfire training establishment subsequently relocated to Aston Down in August 1943, after which Charmy Down saw a major change. Eventually after a delay it became a tactical depot for the United States Army Air Force. Although this role lasted until October 1944, activity had peaked for the airfield and later significant use was as a Relief Landing Ground for Airspeed Oxfords of No 3 (Pilots) Advanced Flying Unit until December 1945.
Charmy Down carried on in more minor and brief roles as a reception centre for Australian airmen waiting to return home as well as holding a gliding school before finally closing in October 1946 as the gliders switched to Colerne. Always a rather hidden and isolated place, some parts of the airfield have survived, such as the often-photographed control tower that previously served as a private dwelling. Most of the runways and associated tracks have disappeared, as have all the hangars, but a limited amount of recreational civil aviation use continues to this day on a small part of this atmospheric airfield.
The following organisations are either based at, use and/or have at least potentially significant connections with the airfield (as at 31/03/2019):
Bath Spa Radio Control Society - model aircraft club
Batheaston Parish Council
Batheaston Society
St. Catherine Parish Meeting
Swainswick Parish Council
Wessex Water - landowner
Main unit(s) present:
No 3 (P) AFU

No 3 FIS
4th Tactical Air Depot

No 11 (RAAF) Personnel Reception Centre

No 52 OTU

No 87 Sqn

No 88 Sqn

No 92 EGS / SW92 EGS

No 92 GS

No 107 Sqn

No 125 Sqn

No 137 Sqn

155th Photographic Reconnaissance Sqn

No 234 Sqn

No 245 Sqn

No 247 Sqn

No 263 Sqn

No 286 Sqn

No 417 Sqn

No 421 Sqn

422nd Night Fighter Sqn
425th Night Fighter Sqn

No 533 Sqn

No 1454 (Fighter) Flight

No 2719 Sqn RAF Regiment
No 2729 Sqn RAF Regiment
No 2742 Sqn RAF Regiment
No 2777 Sqn RAF Regiment
No 2794 Sqn RAF Regiment
No 2798 Sqn RAF Regiment
No 2800 Sqn RAF Regiment
No 2806 Sqn RAF Regiment

Fighter Leaders School
Photographs and video from the memorial unveiling at Charmy Down, 1 June 2019.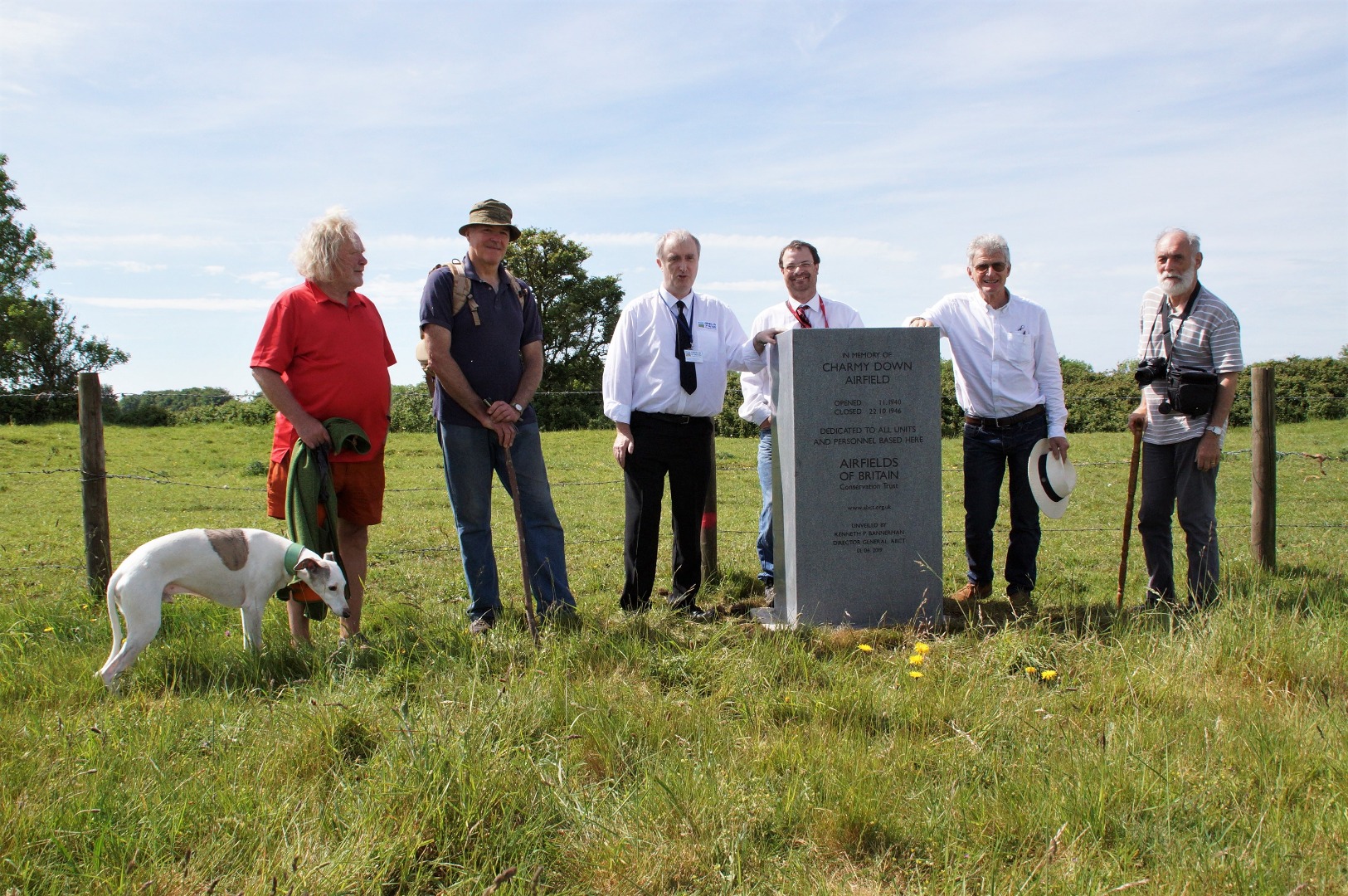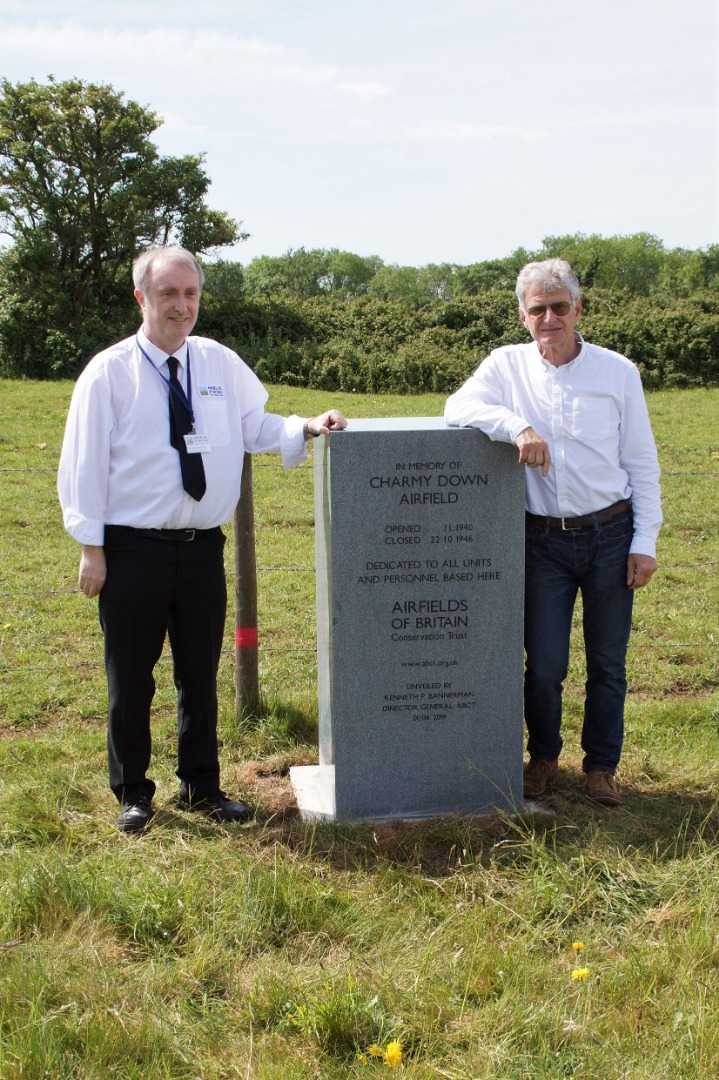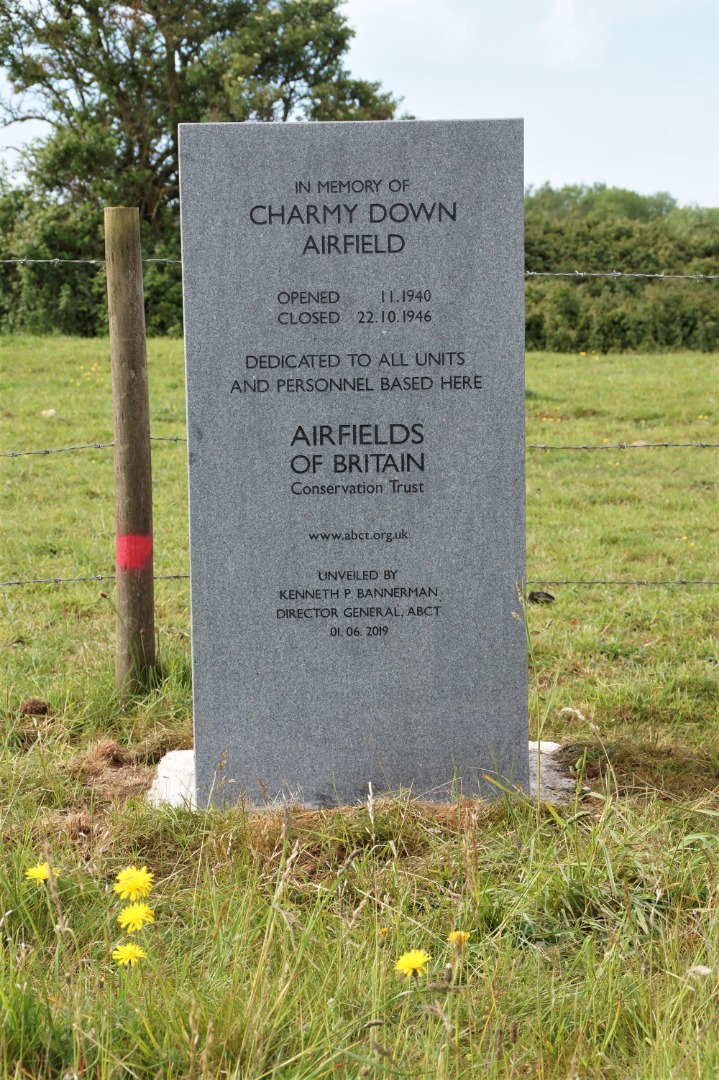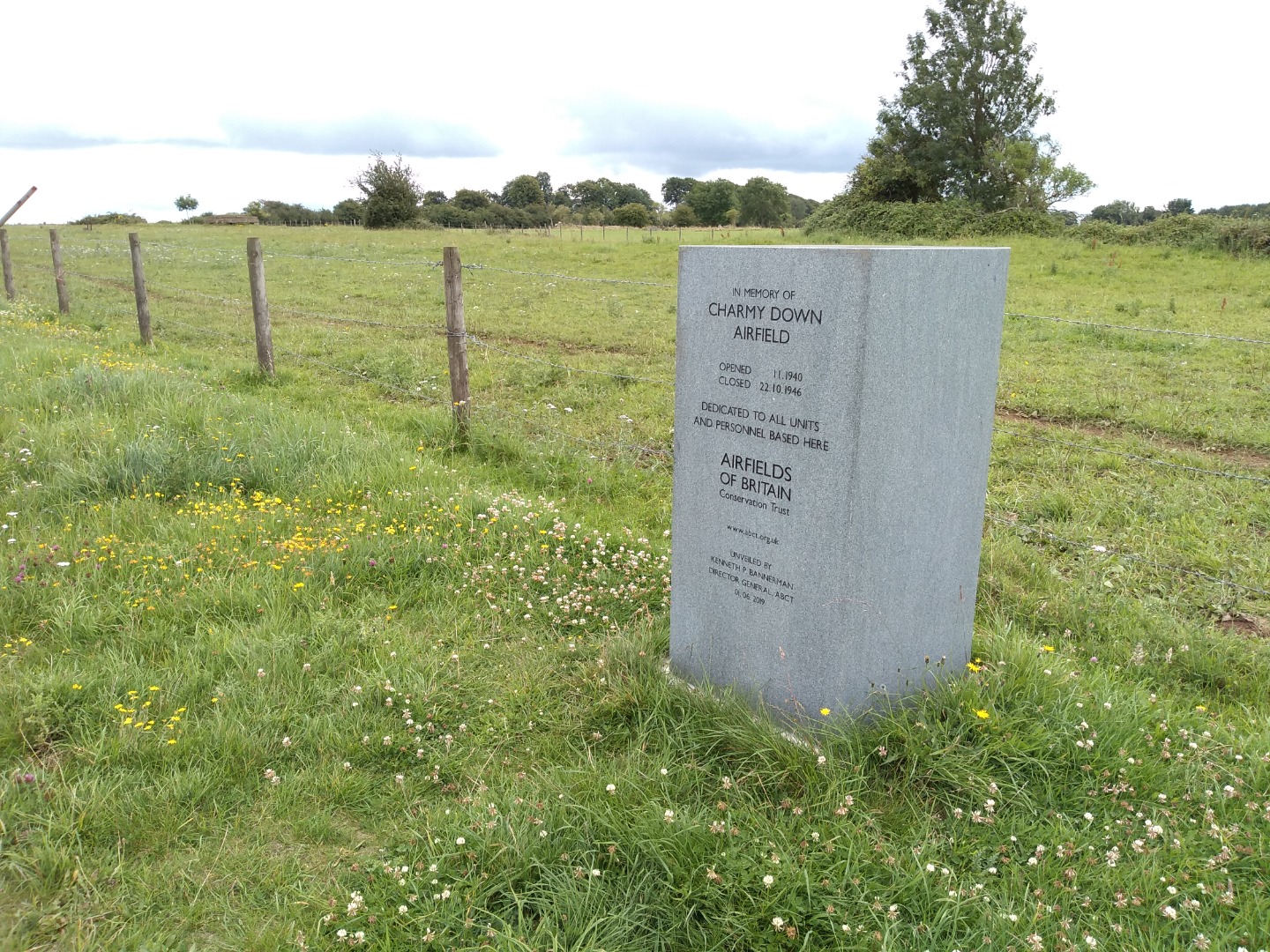 Courtesy of Ian Jordan
Various photographs of Charmy Down. Courtesy of John Grech
Footage of Charmy Down, 2018. Courtesy of Kitty Landrover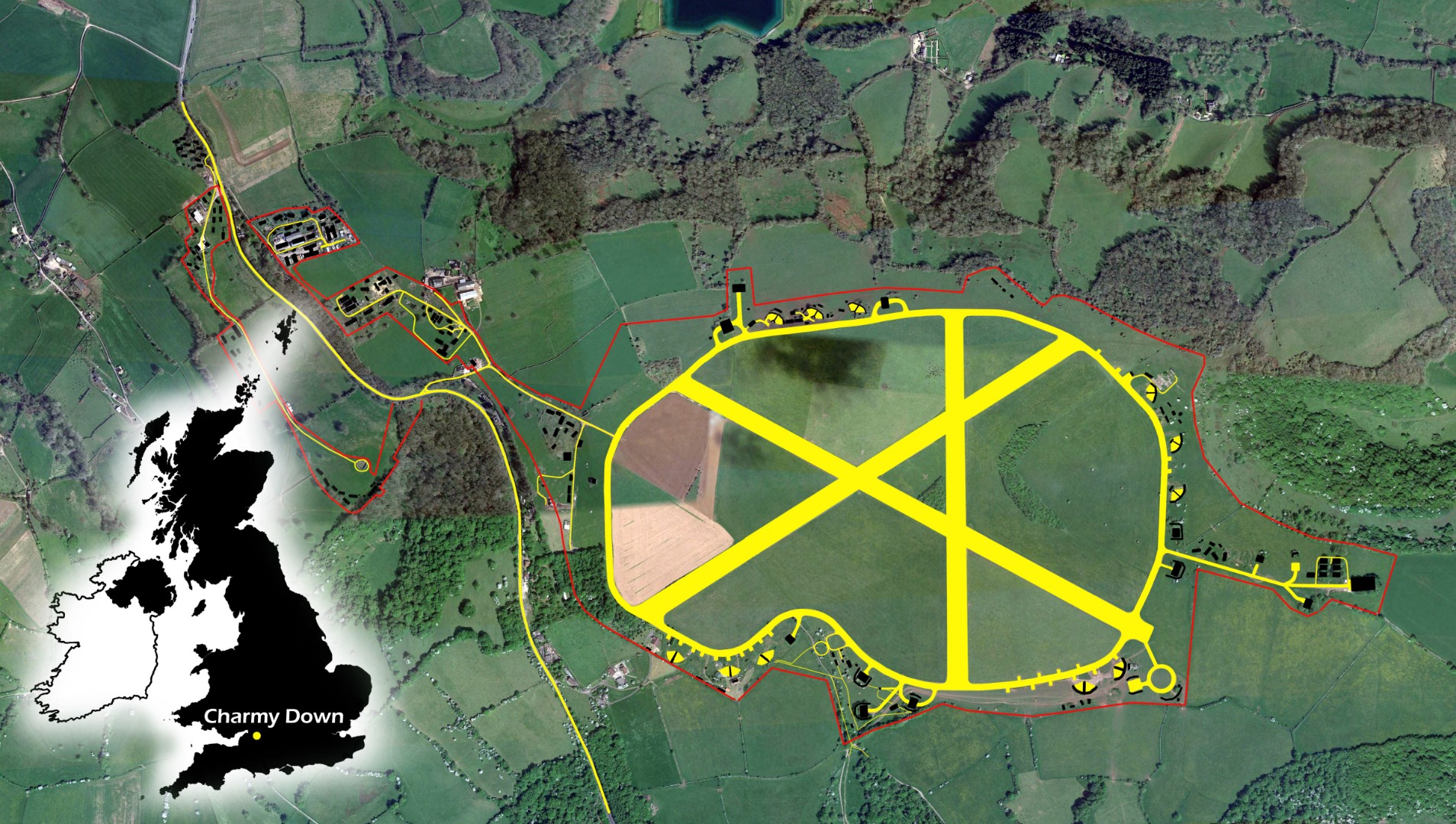 Plan of Charmy Down. Courtesy of Ed Andrews
| | |
| --- | --- |
| Parent(s)/HQ Airfield(s): | |